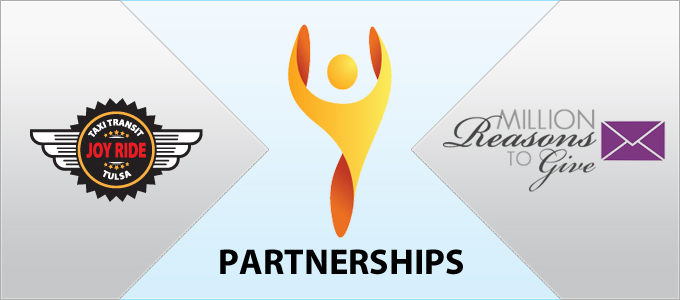 We are happy to announce partnerships with Joy Ride Transit Tulsa Taxi Booking Service & Million Reasons To Give (www.millionreasonstogive.com).
Joy Ride Transit Tulsa Taxi Booking Service
 is founded by Patrick Cuningkin. This taxi service is a flat rate taxi & chauffuer booking service in the city of Tulsa. The cost is $15 for a one way from 9am to 7pm and $20 per stop from 7pm to 9am, locally. (See 
http://www.joyridetransit.com
 for more info and prices outside of the Tulsa area). Their network partners offer complimentary beverages, free WiFi, and TV entertainment during the drive at no additional cost.
Million Reasons To Give is founded by Tenisha Edwards. Her vision is to create awareness and inspire everyone to open their hearts and give to the children in the foster care system. She will also share some incredible real life stories of struggle, strength and the ability to overcome. Her desire is set up scholarship funds to help provide new books, new clothes, extra curricular activities, sports, dance, music, prom and let's not forget about the needs of children aging out of the system who don't have anyone or anything so yes! There are a million reasons to give.
Become a fan of Joy Ride Transit on Facebook and go to Million Reasons to Give's website TODAY!